The son of a small-town lawyer, Deming (a teacher and consultant in statistical studies) attended the University of Wyoming, University of Colorado, and Yale University, where he earned his Ph.D. in mathematical physics. He then taught physics at several universities, worked as a mathematical physicist at the U.S. Department of Agriculture and was a statistical adviser for the U.S. Census Bureau.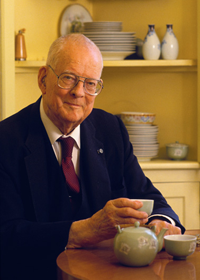 From 1946 to 1993 he was a professor of statistics at New York University's graduate school of business administration, and he taught at Columbia University. Deming became interested in the use of statistical analysis to achieve better quality control in the industry in the 1930s.
In 1950 Deming began teaching and consulting with Japanese industrialists through the Union of Japanese Scientists and Engineers (JUSE). In 1960, he received the Second Order Medal of the Sacred Treasure from the Emperor of Japan for the improvement of quality and the Japanese economy. In 1987 he received the National Medal of Technology from U. S. President Ronald Reagan because of his impact on quality in the United States.
From 1946 to 1993, he was an international teacher and consultant in the area of quality improvement based on statistics, leadership, and customer satisfaction. The Deming Prize for quality was established in 1951 in Japan by JUSE and in 1980 in the United States by the Metropolitan Section of the American Society for Quality.
American companies ignored Deming's teachings for years. In 1980, NBC aired the program "If Japan Can, Why Can't We?," highlighting Deming's contributions in Japan and American companies began to discover Deming. His ideas were used by major U.S. corporations as they sought to compete more effectively against foreign manufacturers.
As a consultant, Deming continued to conduct Quality Management seminars until just days before his death in 1993.